Click here to view original web page at www.tbnewswatch.com
Click here to view original web page at MMIWG Inquiry paving a pathway for healing
Photos of missing and murdered Indigenous women and girls are shown at the end of the Valentine's Day Memorial Walk. (Matt Vis, tbnewswatch.com) THUNDER BAY – After more than two years and thousands of stories shared by survivors of violence and family members of lost loved ones, the release […]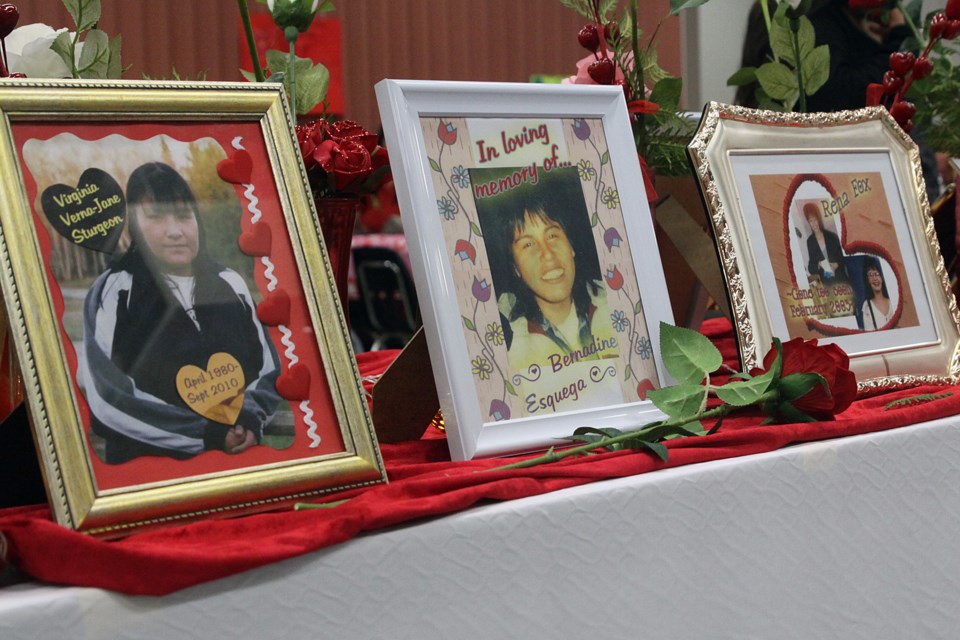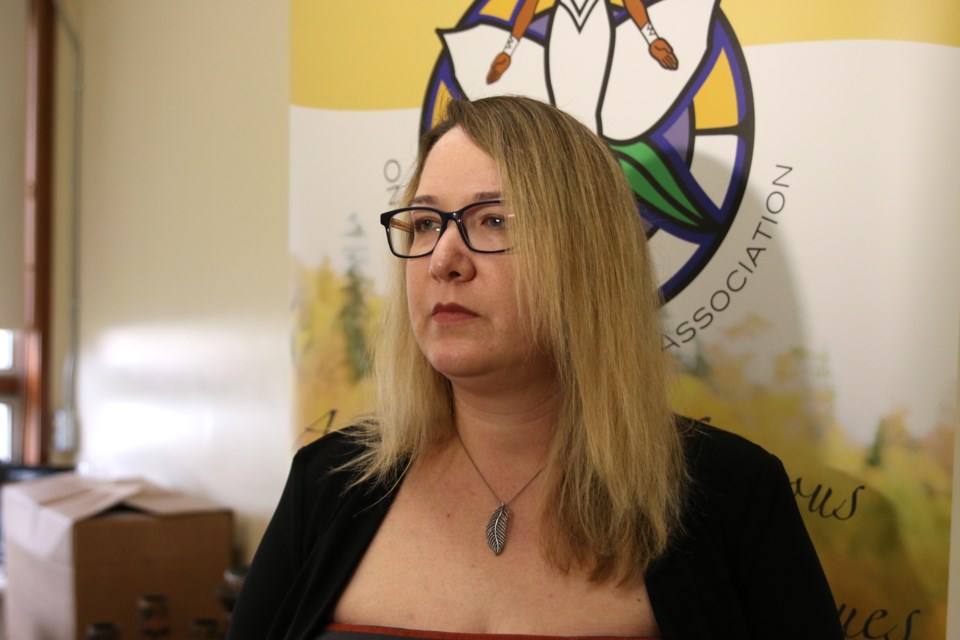 THUNDER BAY - After more than two years and thousands of stories shared by survivors of violence and family members of lost loved ones, the release of the findings of the Missing and Murdered Indigenous Women and Girls Inquiry has drawn mixed reactions from a local agency involved in the process.
"After many years of listening to families, listening to survivors, of wanting this call to action and for it come today, but recognizing the report does not bring back their loved ones," said Cora Lee McGuire-Cyrette, executive director of the Thunder Bay Ontario Native Women's Association.
But there is hope, she added, as the report is one part of a pathway towards a journey to create a different future for women and children in Canada.
"We do need reports like this to address the systemic violence that has plagued Canada in all of our communities," McGuire-Cyrette said. "That's why it's a mixed reaction."
The two-volume, 1,200-page report entitled Reclaiming Power and Place was released during a ceremony at the Canadian Museum of History in Ottawa on Monday and was presented to Prime Minister Justin Trudeau during the closing ceremony.
The report called the level of violence directed at Indigenous women, girls, and two-spirit, lesbian, gay, bisexual, transgender, queer, questioning, intersex, and asexual (2SLGBTQQIA) people a Canadian genocide.
The conclusion was drawn from the truths of 2,380 family members, survivors, experts, and knowledge keepers from across Canada and the report includes 231 calls for justice directed at government, institutions, social service providers, industries, and all Canadians.
The Ontario Native Women's Association was one of the parties with standing during the inquiry and McGuire-Cyrette participated in the closing oral submissions on behalf of its membership and survivors engaged in the process.
"What the survivors told us about what they want to see in the report is calls to action in addressing the child welfare system and the prevention of apprehending children," she said. "As well as to address sexual violence against Indigenous women and girls through human trafficking. Every community has a role and responsibility to play to create safer spaces for all women and children."
A survivor-led report was released by ONWA last week detailed women's experiences with human trafficking and sexual exposition and the need to create safe spaces for Indigenous people.
McGuire-Cyrette said there are many issues in Northern Ontario specifically that need to be addressed; including remoteness, racism, and discrimination, but she also said it is an opportunity to come together as a region.
"To be leaders once again and to work together in unity to create safe spaces for everyone," she said.
And while the report offers more than 200 calls to justice, McGuire-Cyrette said change is already taking place across the country with communities taking on a leadership role and focussing on healing.
National action plan
Following the release of the report, Trudeau said the government of Canada will implement a national action plan to address the calls to justice.
Minister of Employment, Workforce Development, and Labour, Patty Hajdu, said the action plan has to have concrete steps to build on the work already being done by the government.
"Things like reforming child and family services that recognize the inherent rights of Indigenous peoples, protecting Indigenous languages, and continuing to invest in things like women's shelters housing and education that is equitable for Indigenous people and women, and safety in terms of transportation routes that are remote or difficult," she said.
"If the strategy is not actualized with a concrete plan that is the risk in terms of the next steps," Hajdu continued. "That is our commitment, that we will formally develop a national action plan and we will work with Indigenous leaders to do that."
Nishnawbe Aski Nation deputy Grand Chief, Walter Naveau, said the report validates the tragic experiences Indigenous people have been enduring for years.
"We accept its conclusion that colonial structures, polices and inequities are persistent in Canada and amounts to genocide," he said in a statement issued by NAN. "I acknowledge the Prime Minister's commitment to develop a National Action Plan to address this violence and we look forward to developing a plan of action with the full inclusion of our communities."
Though the report calls the level of violence directed at Indigenous women, girls, and (2SLGBTQQIA) people a Canadian genocide, the Prime Minister did not use the term when speaking at the ceremony in Ottawa.
"We've talked about the cultural genocide and agreed with the Truth and Reconciliation Commission among others that have said Canada's treatment of Indigenous people's represents cultural genocide," Hajdu said.
"In order to move forward and to healing, there has to be an acknowledgment of the harm that has happened. And that is why our government has not run away from the fact that systemic racism does exists in this country."
McGuire-Cyrette said referring to the experiences of Indigenous women, girls, and 2SLGBTQQIA people as genocide is appropriate and representative of what Indigenous people have experienced throughout history.
"There has been a direct attack on Indigenous women in Canada," she said. "This is a known part of our history. It is part of colonization. It is one thing we've known as a community for many generations. Colonization directly attacked Indigenous women specifically through pieces of legislation that is still in place today."
McGuire-Cyrett added Trudeau needs to stick to his promise and ONWA will hold him to his commitment, along with future governments regarding the importance of this report.
Because if nothing else, the report highlights the violence experienced by Indigenous women and girls throughout history, McGuire-Cyrette said, which needs to end today.
"People have been asking me what can they do," she said. "If you don't agree with the report or the recommendations, the only thing we can ask is to stop the violence, to do no further harm to women and children. That's all we can ask for."